Casa Cuccaro is happy to welcome you!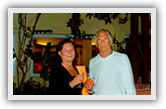 Casa Cuccaro was an ancient agricultural building set in one of the most dramatic sites of all Positano, the tiny village of Nocelle. From here you can vertically dominate Positano and its entire coast with endless emotions.
Peppe and his family welcome you with a genuine and authentic hospitality.
...home
As you arrive at Casa Cuccaro you immediately feel at home: atmosphere is warm and comfortable because Peppe, wife Gerardina and the whole family are so attentive and friendly.